2016 Tomatoes Selected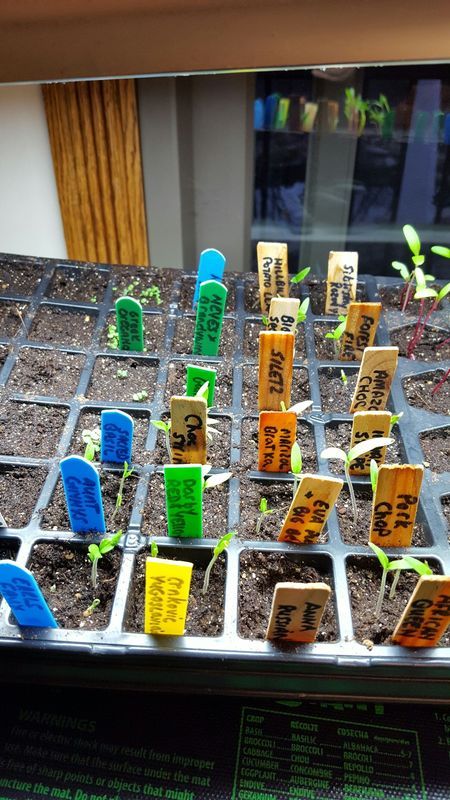 I prefer to grow my tomatoes from seeds for a variety of reasons. First and foremost I love the variety available to me via on-line seed sources. Sites such a Adaptive Seeds, Heritage Seeds, Tatiana's and the Seed Savers exchange are great sources for both heirlooms and the unique. I've found that a pack of well sourced seeds can last for years. This year I am growing some varieties that were first purchased back in 2008. My selections this year tend to follow my usual requirements. They must have excellent taste, be productive in my zone and be generally reported to be reasonably disease resistant on forums such as Tomatoville. In my zone I lean towards mid-season varieties as the long season varieties tend to leave me with too many greenies on the vine in fall.
I planted these babies on 3/6/2016. Eight days later all but a few are up. I expect the older seed to take a little longer. Here are the varieties I chose for this year and why they made the cut. The last three on my list I added a couple of days ago. Because I had room!
Forest Fire: Early, 60 Days with very good flavor and productivity.
Chocolate Stripes:

My seed. Gorgeous, unique neon stripes. Productive with very good flavor

Striped Roman:

Long, meaty productive sauce, pretty colorization. Productive. Good flavor

Amazon Chocolate: Mid-season black with very good flavor. Good Producer.
Indian Stripe: midseason compact. Purple beefsteak Excellent producer. Taste is exquisite.
Porkchop: mid-season yellow with green stripes. Great flavor.
African Queen: Late season. Pink Beef steaks 1#. Very good producer. Excellent taste
Marizol Bratka: midseason 1# potato leaf, dark pink with outstanding flavor
Sibirskiy Velikan Rozovyi: midseason hearts/beefsteaks, excellent flavor, heavy producer

Eva Purple Ball x Big Beef

: Productive disease resistant with good taste. F3 so not yet stable
Neves x Brandywine: F3. Disease resistant cross. Very productive. Taste Good. Salad size
Galinas: Sweet fruity highly productive cherry. Vines get huge. Early producer.
Darby Red and Yellow: Early 60 days, red with yellow stripes. Flavor excellent.
Earls Faux: mid-season 1-1.5# pink beefsteak. Award winning flavor. Good production.
Anna Russian: Early oxheart. Gorgeous. rich complex flavor. Very reliable.
Aunt Ginnys Purple: Mid-season vigorous. Exceptionally flavored pink beefsteaks
Siletz: Early red slicers. Productive. Taste is good for an early
Crnkovic Yugoslavian: mid-season. reliable. large pink sweet beefsteaks, excellent flavor
Black Seaman: Mid-season. Productive. Stunning pieces of art when cut. Delicious.
Hillbilly Potato Leaf: Mid-Season. Beautiful Bi-color 1# beefsteaks. Sweet. Heavy Producer
Black Cherry: Very tasty cherry when you get good seed. Many bad seed sources out there.
Seattle's Woolly Blue Mammoth: Very fuzzy. Very blue. Cool looking plant. productive
Orange Russian 117: Bicolor 8 oz oxhearts. Meaty and very delicious. Mid-season.
Black Krim: Very disease resistant in IL. wonderfully flavored black.