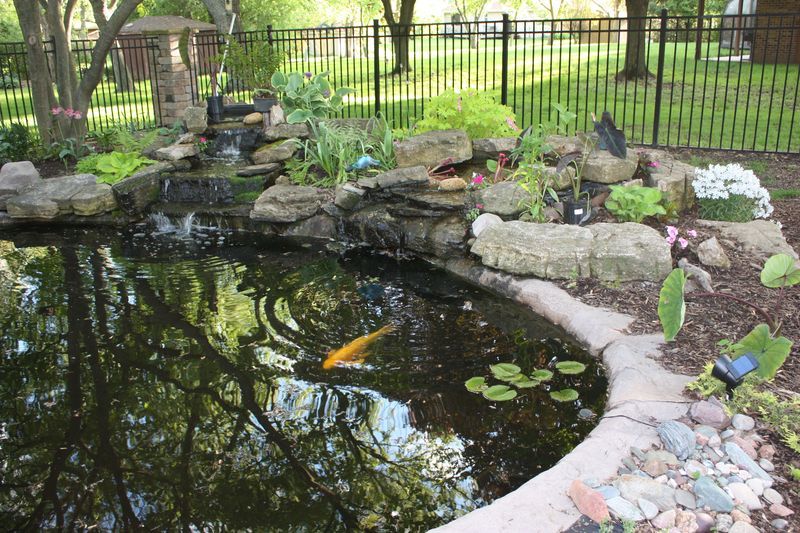 It has rained the entire week and as a result the pond is in rough shape. The winds in the storms blew every single crab-apple blossum into the pond plus a fair number of sticks and other debris. Visibility is only about a foot and a half. When the pond is in good shape its crystal clear to the bottom Part of the issue is also the DOCs. See all those bubbles under the waterfall? That is not good. Those are DOC's or dissolved organic compounds. Its the result of leaves blowing into the pond and starting to rot for the entire winter. Leaves I have only started to remove. Normally I would be farther along but the water is still only 55 degrees and putting on waders and spending a few hours scooping up methane loaded rot is the recipe for a bad day which one has to mentally psych oneself up for. The cool weather has not inspired me so instead I have been doing a scoop or two at a time, in between rain storms.
The big yellow koi is Luna. I have had her since she was 4" long. She spent November through March under ice with no problem whatsoever. This is because my pond is 4 feet deep and doesn't freeze to the bottom but more importantly it only has 4 koi in it, Luna, Fred, Bella and Ginny. The fewer koi the larger the margin of error. I don't have any intention of making this group any larger. This size herd allows me to go on vacation and ignore them there is enough in the pond where they can sustain themselves. Plus each time you introduce a new fish there is a significant risk of introducing bad disease
The goals this weekend is to get the leaf debris reduced by 75% at least, and get this final load of seedlings planted.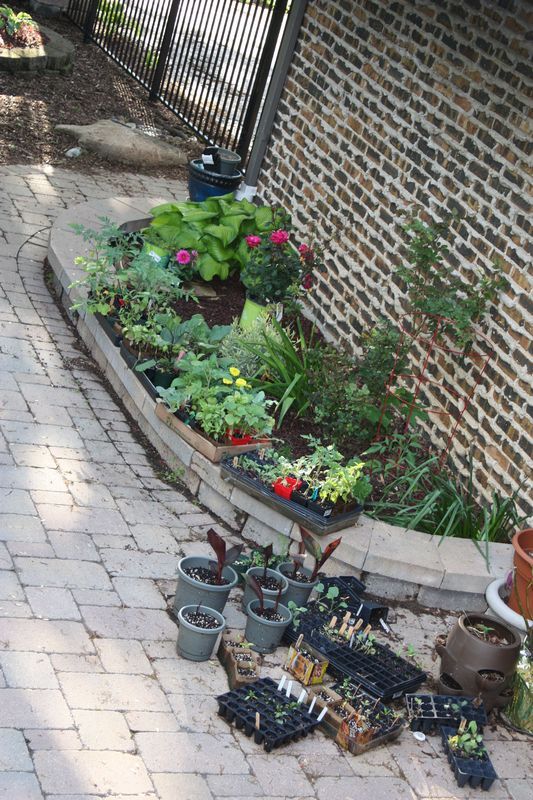 I'm hesitating for two reasons. 1) we have two nights in coming days with lows of 36 degrees. That is cutting it closer than I like. The remaining unplanted seedlings and plants are primarily tenders and expensive ones at that. I may hold off a few more days. 2) Reason two is another good reason to delay. It has rained the entire week we got several inches and everything is pretty wet. The winds are up again so it will dry out fast but I'm not sure fast enough for any work at Mar-duke. Fingers crossed there!