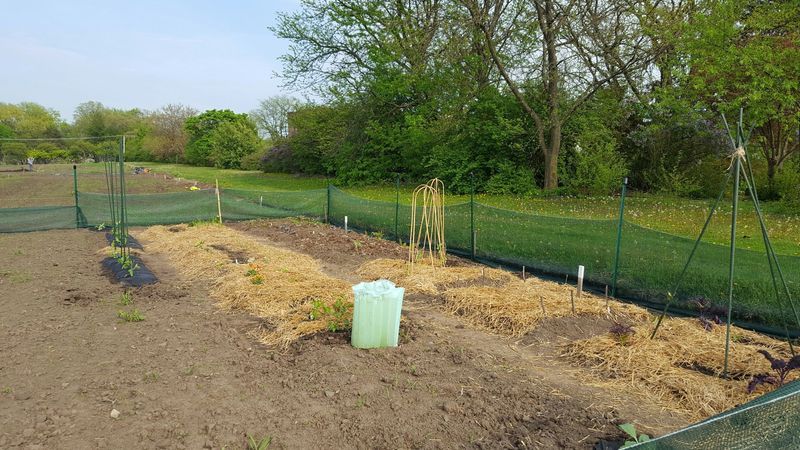 Gack look at all those dandelion seeds off to the right!
I took Friday off to go hard core at the planting at Mar-Duke. I had great plans that by the end of the weekend I would be done and could relax and watch things grow. Ha!
All I can say is man I am slow. I spent 8 hours on Friday, 6 on Saturday and another 8 on Sunday and I am only about 1/2 way done with filling up my plot space. I also can barely move.
I think it is the weeding part that is slowing me down. The plot has a lot of grass in it with very deep roots. Type A person that I am, I have been slowly picking--yes picking through each area to dig up and dispose of the grass. Most of my neighbors are Mar-Duke are just rototilling. No till philosophies aside. I'm not sure about that approach. Chopping these roots up just makes more grass sprouts to grow. It will be interesting to see how it all compares in a month or so.
OK so what we in the ground this weekend?
Strawberry popcorn
8 tomato plants (more to go)
watermelon radish
two towers of pea
1 bean teepee
purple cauliflower
orange cauliflower
2 artichokes
2 strips of Romance carrots
purple potatoes
pink tenderling potatoes
some borage, dill, basil and marigolds, nasturium seeds, sunflowers
cukes (replacements for the two lemon cukes that croaked from last week.)
4 sweet peppers. Bit cool for these but we will see what happens.
leeks
candy onions
spanish utah onions
Shiso-red Perillo
raddichio
purple peacock broccoli
Red Russian kale
mustard greens
Rain is now forecast for the next three days, so I am going to concentrate on pond plantings and the yard veggies for the next few days.
Sorry for the terrible pictures. I will get some closer ones next time.