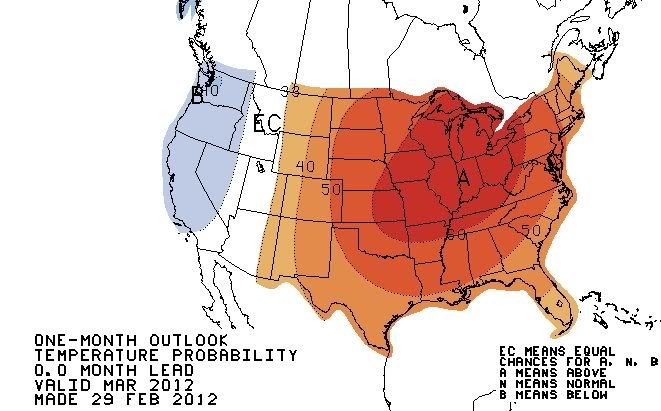 Spring in the area is often an exciting time. We see huge temperatures swings from warmth to blizzard from gale to sleet.
This spring looks like it is going to be a bit different. All of the long range forecast models at
NOAA
are predicting above normal temperatures. WAY above normal. Preciptation is also looking like it will be above normal for this area.
What does this mean for this gardener? I will be going for my all time early records in garden harvests. This weekend will be shorts and t-shirt weather out there (yeah in Chicago-good grief). <--OK we are a hardy bunch, 55 is shorts and t-shirts here if you are working outside. My plan is to get stuff out there NOW and to have plenty of back-up in case the usual Chicago whack kicks in and we get a blizzard in late April.
I'm excited about this, and yet still not a little bit concerned. Twenty degrees above normal? That is pretty darn abnormal.