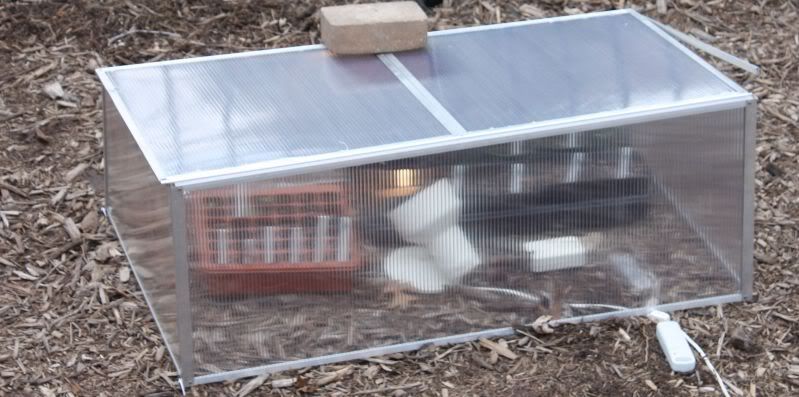 If you are a zone pusher like I am, a cold frame is a critical piece of equipment. Over the years my blog has featured some homemade, seriously ugly cold frames. Some were a traditional design. Last year I did the "tsunami" which included a back wall of water. They have all had two things in common. They were all really ugly and they were all very sturdy. Having no problem whatsoever with our spring winds.
This year, in honor of the shiny new patio I decided to "upgrade" to a purchased, more attractive and theoretically more functional model. I purchased the cold frame above. It has been a huge waste of money. I am two days into the first spring wind storm and already the frame is falling apart. Now one could argue that perhaps it was never meant for 40-50 mph winds. Fair enough. Shouldn't one still be able to expect a frame that the lid closes squarely and tightly on? Also, a means to anchor it other than the tiny wire I am supposed to hook over the tiny screw might be nice.
Because the frame is so ill fitting, I don't have nearly the insulation value of previous ugly frames, which means a lot more careful watching of the weather and will likely mean a lot more hauling plants back inside. What a disappointment.